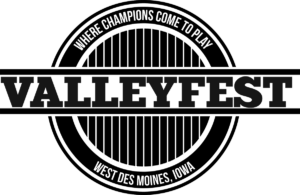 Dear Director:
Welcome to Valleyfest XXXVIII and Showdown. We are expecting another great show with a
full schedule of outstanding bands. Thank you for choosing to be part of our show!
The information included in this mailing is important to you and your band.  Please take time to review it carefully, as there may be changes that affect your preparations.  If you would like us to mail you a hard copy of anything, we would be glad to do so, but we are striving to "go green" with our communication!  Each attachment in this e-mail will also be posted on the Valley Bands website (www.valleybands.org) under the Valleyfest tab. Thank you in advance for helping to communicate pertinent information to your staff, students, chaperones, and visiting parents.
Included in this mailing is an apparel order form that we are asking you to print or make available electronically for your students' benefit. Also included is a flyer from Lifetouch with information about group pictures. INSTRUCTIONS FOR PARKING WILL BE COMING AS A SEPARATE E-MAIL IN EARLY OCTOBER.
Please feel free to contact us should you have any questions at (waymirej@wdmcs.org)
As always, we invite your input and evaluation to help us improve our service for next year.
We look forward to welcoming you and your band to Valleyfest XXXVIII!
Sincerely,
VHS Band Staff,
Valley Band Booster Club,
And the Valleyfest XXXVIII Committee
What To Know Before You Arrive
The Day's Events
Valleyfest is organized as a "two-show" event which requires us to clear the stadium between Valleyfest (Day Show) and Showdown (Night Show).  Following awards for the day show, the stadium will need to be vacated. Please assist us by informing your band students and parents they will need to vacate the stadium at this time (approximately 2:55). You, your staff, band students, and chaperones are welcome to reenter shortly thereafter.
Apparel Orders
Please make the t-shirt form available to your students and parents, so that pre-orders can be placed. There will be additional apparel items for sale on the day of the event, but pre-ordering helps us to make sure we have the inventory we need.
Admission Prices
Prices for spectator admission to the shows are as follows:
All day-night, $15
Day show only, $10
Night show only, $10
Students  K-12 (all day-night), $5
Children (5 and under), free
($2 discount will be given to seniors 55+)
Admission fees can be paid with cash, checks, or credit cards (with small processing fee).
Parking
If directors will be arriving separately by car, director parking will be on the west side of the stadium, entering from the south west side. This is a permit lot only, limited to directors and staff, so please abide by the restriction. ABSOLUTELY NO VEHICLES WILL BE ALLOWED TO PARK NEAR BUSSES OR EQUIPMENT. Please allow plenty of time to park there and walk to your busses' arrival location. It is important that you meet your bus upon its arrival so that you can get your wristbands at that time. The lot is also used for VIP and handicapped parking.
Bus and equipment parking instructions are included in this email, as well as clear maps detailing the public parking areas. Public parking will also be posted on the valleybands.org website, but your school's individual parking locations will not. Please refer to your school's specific e-mailed instructions for busses/equipment. Please communicate to all of your bus drivers the specific location you are given.
As always, we ask for your cooperation and patience with the parking as the stadium itself has a very limited number of spots, and must rely on the neighboring public buildings and churches to accommodate all of the need.
What To Know Inside the Stadium
First Aid
There will be a first aid station at Valley Stadium.  If you need assistance, please inform any Valleyfest event staff member.
Concessions
The Valley Band Boosters will operate two concession stands at Valley Stadium all day and throughout the evening. Items may be purchased with cash or credit (with small processing fee). A menu will be available on the Valleyfest website the week of the event.
Restrooms
Adequate restroom and changing space are available at Valley Stadium. Last minute restroom access is available at Jordan Creek Elementary and at Valley Southwoods 9th grade High School. The West Des Moines City Hall and Library are not available for restrooms or any other purpose.
Lost & Found
A lost and found area will be provided in the Event Center.  Valley School Bands, Valley Band Boosters, and West Des Moines Community Schools cannot accept responsibility for lost or stolen articles. 
Director Wristbands (RED)
We will include director wristbands in your school's wristband packet and they will be distributed upon your arrival along with the chaperone and participant wristbands.( In the event you are driving separately, allow plenty of time to park in the upper West stadium lot so that you can be present to meet your bus at its arrival time.) The red band will allow you access through any admission gate, to the directors' lounge, and to the press box.  Please wear the wrist bands at all times.  You will need no other credential for admission.  If you did not list all of your directors on the original entry form, please e-mail us at waymirej@wdmcs.org  as soon as possible so that we can get you the appropriate number.
Director's Lounge & Study Area
Participating directors will have access to a private area in the Events Center.  This area is designated to afford directors a place to relax in private and make preparations for upcoming critique sessions.  Laptop computers will be provided so you can review your show.  Refreshments will be provided by the Valley Band Boosters.
Band Student Admission (GRAY)
Your entry fee entitles admission for your band members and band chaperones.  Please have all students and chaperones remain on the busses until Valleyfest volunteers come to your bus to distribute wrist bands.
Chaperone Admissions
You will receive 1 chaperone wristband per 9 students. Any additional parents on the student busses will need to purchase admission at the gate on the day of the event.
Bus Drivers
Each bus driver will receive a wristband for entry to Valleyfest upon arrival and a coupon for a free food item at the concession stand.
Pit Crew Admissions
Non-chaperone pit crew helpers won't need wrist bands to access the field to set up your band's performance. If they wish to watch any other bands or awards from inside the stadium, they will need to pay public admission.
ATM / Credit Cards
An ATM will be available inside the stadium. Standard processing fees will apply.  Credit cards will also be accepted for ticket and apparel orders.
What To Know For Your Performance
Music Warm-Up Areas
Please confine music warm-up to the designated areas near Valley Southwoods and Jordan Creek Elementary Schools.  (See attached map). Your cooperation in adhering to the designated music warm-up areas is greatly appreciated. The approach to the stadium from the warm-up sites is silent in deference to the performers on the field.  No cadence or rim shots should be used.
Rules & Regulations
Your report time is 15 minutes prior to your performance time.
Valleyfest will utilize the rules and regulations as outlined by the Iowa High School Music Association for the current school year.  The rules and guidelines are posted on the Valleyfest website in the Director's section.
Each band will receive 15 minutes to enter, warm-up, perform and exit.  Band members, equipment and "all items included in the show" must clear the exit boundary within the allotted time.  The penalty clock will begin as soon as the allotted 15 minutes have expired. Penalty points will be assessed as outlined in the IHSMA Rules and Regulations.  All performance boundaries stand as outlined.
Therefore, we would like to clearly state that the "15 minute rule" will be in effect as part of Valleyfest.  Please review the IHSMA Fall Contest Bulletin.  Rules and regulations are included in this mailing.
Both entry and exit clearance boundaries will be clearly marked at Valley Stadium.  The entry boundary line is approximately 15 yards behind the end zone and a total of 25 yards behind the goal line.  It should be noted that we will ask bands to clear only the goal line for exit purposes. Directors are encouraged to carefully review these boundaries in preparation for the IHSMA State Marching Band Contest.
Boundary penalties have been removed from the Showdown portion of the competition.
Pit equipment will be allowed up to the goal line area as opposed to the clearance boundary.  Pit equipment must be clear of the exit boundary (goal line) prior to the expiration of the 15 minutes.  Infractions of the timing rules will warrant penalties as outlined in the IHSMA Fall Bulletin.  Please feel free to call us if you need further clarification. 
BAND PERFORMANCE / NORTHEAST GATE REPORT TIME
Please report to the northeast gate no less than 15 minutes prior to your scheduled performance time.  There will be Valleyfest volunteers at Jordan Creek School to assist you.  The driveway on the South side of Jordan Creek Elementary should be used to line-up your band from the warm-up areas near Jordan Creek.  You will then proceed around the West side of Jordan Creek Elementary and follow the sidewalk to the Northeast stadium gate.  Bands warming-up at Valley Southwoods should use the sidewalk from that school to the stadium.  Valleyfest event staff will help direct pedestrian traffic flow to assure that the bands entering the gate for performance will be granted the right of way. 
PERFORMANCE FIELD
You will be directed from the Northeast Gate by the field coordinator as to the field entrance and exit procedures.  Since the performance field is artificial turf, please make sure all pit equipment is free of any rough edges that could cut the field.  The band handlers may request that you tape rough edges or place equipment on carpet if they believe it may damage the field.  Anchors for scenery should not pierce the turf. Your cooperation in this matter is greatly appreciated. 
SALUTE
Please do not start your performance until the judges are ready and you have been announced.  Your drum major(s) will indicate their readiness with a salute to the box.
PRESS BOX
Directors may view their band's performance from the press box, but space is limited, so please be respectful of the band currently performing.  The Director's entrance is on the South side of the press box. An additional viewing platform is outside the press box.
GROUNDED EQUIPMENT
Please let us know if you need special arrangements for any of these items.  Soloists may use a microphone if you wish to bring your own sound system.  Electricity will be provided in the pit area. 
What To Know After Your Performance
AUDIO/VIDEO EVALUATION
Judges' comments will be available in the Directors' Lounge in the Event Center about 45 minutes after the conclusion of your performance. (We will again use high definition flip cameras as well as audio recorders.)  Directors will receive the judges' comments (7 files) on one flash drive. If you are performing in both shows, you will have two separate flash drives. (Some of you have asked about putting this data in a "cloud," but because these files are so large, it is time prohibitive.) There will be laptops available in the Events Center to review your Day Show performance.  Directors are encouraged to bring your own laptop computer if you want to review the information on your flash drive outside of the director's lounge.
PERFORMANCE RECORDING
A separate file containing a video your band's performance (taken from the press box) will be included along with the files of judges' comments. We hope to include all files on ONE flash drive for your convenience, but it may be two depending on the timing.
FORMAL AWARDS
1. All bands receive Division ratings.
2. All bands will be ranked in their class according to scores.
3. Trophies will be awarded in every class for every entrant.
4. Outstanding Drumline, Colorguard, Drum Major, Horn Line, Soloist, and
Marching Certificates will be awarded in each class.           
5. The overall top five scoring bands of the day show will be presented with First
         through Fifth Place trophies.
6. Plaques and certificates will be awarded for Overall Outstanding Drumline,          
Colorguard, Drum Major, Hornline, and Soloist.
INFORMAL OUTSTANDING MARCHING PERFORMANCE AWARD:
One outstanding individual marching performance will be chosen from each band (Day Show only).  We are providing this recognition in an effort to encourage and support individual responsibility for marching and maneuvering fundamentals.  The band member who is judged to have the outstanding performance will be awarded a Valleyfest T-shirt and will be recognized at the afternoon awards assembly. The T-Shirt will be included in the director's packet.
SHOWDOWN
The evening competition will begin with opening ceremonies at 3:25 PM.
TWO CRITIQUE SESSIONS
We invite all directors to join us in the Director's Lounge in the Event Center for the scheduled critique sessions. The first critique session will begin immediately following the afternoon awards presentation (approximately 3:30 PM). 
The second session will begin immediately following the Showdown awards presentation. 
Directors are encouraged to listen to their adjudicator comments in preparation for the critique session.
VALLEYFEST/SHOWDOWN ADJUDICATORS
Adjudicators will be listed on the www.valleybands.org website as soon as it becomes available.
IHSMA BALLOTS VALLEYFEST
Valleyfest utilizes the Iowa High School Music Association marching ballots.  These ballots have been posted to our website, www.valleybands.org, for your review.  We encourage directors who are unfamiliar with these sheets to review them accordingly.
MACBDA SHEETS FOR SHOWDOWN
Showdown utilizes Mid America Competing Band Directors Association (MACBDA) adjudicator sheets.  These ballots have been posted to our website, www.valleybands.org, for your review. MACBDA sheets differ from the IHSMA ballots. 
TIES
All ties will be decided by totaling the Music GE and Music EX scores.  If a tie remains, the highest Music EX score will be used to break the tie.